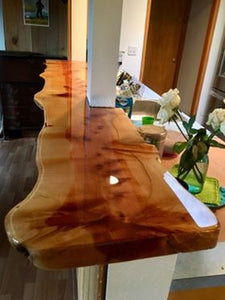 Customer Project
For a truly amazing finish on your Juniper Slab take a look at how our customer Michael Comfort did his.
Michael Comfort -
"After doing a LOT of research online, I went with East Coast Resin. It is sold through Walmart with free shipping! What sold me was the no odor, low VOC and lower price than any other comparable brands. I got a product off the shelf at Home Depot first, but took it back because I couldn't use it without a lot of ventilation/evaporation. I would have to wait for warmer weather to even start!"
Beautiful live edge Juniper slabs for sale
At the Juniper Lumber sawmill we specialize in producing character slabs from old growth Juniper trees harvested in Central Oregon. Our milling logs are specifically chosen for their appearance, grain, pattern, and heartwood to provide our customers with the best pieces possible. Our character slabs are used for many applications including bar tops, counters, mantels, trim, stairways, railings, paneling, and many other decorative purposes. All slabs are furniture grade and are renowned for their beauty, longevity and coveted fiddle back pattern.